Reconstruction Restoration Plan
During the restoration process, you should be able to obtain a remediation plan from a restoration company that outlines what needs to be done. The first step in the process is that we will conduct a thorough assessment of your property to identify all of the damage that has occurred and any other problems that need to be resolved. To determine the scope of the expenses and how to proceed with the project, you should receive a reliable estimate of the costs of repairing or replacing your home.
Equipment and Training
It makes all the difference when it comes to restoration work to use the most current equipment. The best available products and the latest techniques are used by our specialists to ensure proper cleanup. Aside from the structural parts of your home or business, you should also protect and restore the personal property inside them.
Customer Communication
Throughout the process, it is important to contact you personally in order to do the job well. Our commitment to you as a customer is to maintain an open line of communication and keep you informed throughout the entire process.
Insurance Assistance
In addition to restoration work, filing an insurance claim is a crucial step. To file a claim in a timely manner that meets industry standards, you need specialized assistance from specialists who know how to prepare proper documentation.
Quality of Workmanship
Delivering services effectively is the key to success for a restoration company. Fast and efficient response times are essential. In order to be confident that their homes or businesses are safe, craftsmanship must be of the highest quality.
When You Need Reconstruction Restoration Services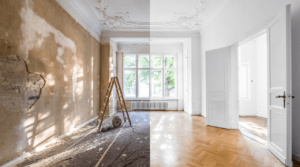 Services for reconstruction and restoration are necessary in certain emergency situations. To restore a structure to its former state after fire, water, or mold damage, reconstruction is required. When construction work is already required to maintain a property, the owner may decide to upgrade their property. It is essential that the work is performed by professionals who use high-quality materials and demonstrate exceptional craftsmanship. You can choose from three main types of reconstruction restoration services:
Fire damage is often catastrophic and requires a great deal of cleaning and rebuilding to get a structure back to its normal state. The way smoke and flames can infiltrate a structure poses a great deal of danger when dealing with fire damage. Soot, ash, and burn damage must be assessed thoroughly so that the reconstruction process runs smoothly.
Over time, deteriorated parts of a home or business may require replacement:
You will be able to coordinate your remodeling schedule with the full-service remodeling company, and you'll be working with highly skilled contractors.
A home emergency can be devastating if water is present. This can cause damage to the structure of your home as well as your property inside. Certain conditions may cause water to remain inside a home for so long that any damage caused by it may be impossible to repair. This can occur as a result of an undetected leak or major flooding. Water can also cause bacteria growth in addition to causing mold proliferation. If the conditions are right, it takes very little time for this to happen.
Drying and disinfecting the affected areas of the home as well as personal belongings are the technicians' responsibilities. When water comes in contact with drywall, it destroys it quickly. When this occurs, replacing the roof will prevent mold from growing on the property and restore its appearance.
Health problems associated with mold exposure can be serious and permanent for many people. It is extremely expensive to replace large sections of drywall or other materials that are irreversibly contaminated by black mold spores. In addition to toxic molds, there are others that need remediation to be eradicated.
In newer buildings, moisture can be retained while airflow is reduced while energy efficiency is increased. This creates the ideal environment for mold to reproduce. In order to prevent future growth and to prevent recurring problems, it is often best to reconstruct damaged areas in order to prevent future growth.
Where Reconstruction Restoration Services Make a Difference
Reconstruction services are essential not only for remodeling work, but for a variety of other reasons as well. Contractors can provide a number of critical services to their customers in the event of a crisis:
Stabilization of structures

Properties that have been boarded up

Security measures at the site (building fences, storage areas, and restricting barriers)

Debris removal and demolition of hazardous materials
The reconstruction team should be on site as soon as possible if your property has been damaged by fire or flood water so that it can be secured before reconstruction begins